Gourd, Birdhouse Seeds
Lagenaria siceraria
Regular price
Sale price
$2.19
Unit price
per
Sale
Sold out
Gourd, Birdhouse Seeds
Lagenaria siceraria
Regular price
Sale price
$2.19
Unit price
per
Sale
Sold out
Birdhouse Gourds are green, hourglass-shaped fruits eight to ten inches long.
Their slow maturity rate ensures a low growth cycle and high nutritional content.
Decorative, fresh, and extra functional when made into a birdhouse!
These gourd seeds promote sustainable gardening and are perfect for creating a unique birdhouse that stands out as an attractive ornament in the garden.
They can also provide a fun project for children to paint funny faces on them. An excellent activity for the whole family, birdhouse gourd seeds let you create custom art pieces that will make your garden stand out.
Characteristics: Ornamental/Decorative
Botanical Name: Lagenaria siceraria
Plant Type: Flower
Plant Lifecycle: Annual
Pelleted Seed Count: 30 - 40
Fill Weight (grams): 2
Days To Bloom: 120 - 130 Days
Landscape Use: Ornamental / Decor
Growing Season(s): Spring|Summer
Harvest/Bloom Season(s): Summer
Package Dimensions: 3.25 x 4.5"
Best practice: sow a few Garden Birdhouse Gourds seeds evenly spaced in hills, 8" high and 12" across. Young vines should have a fence, trellis, or heavy cord on which to climb. When young vines are about 8", thin to 3 plants per hill. Does not transplant well.
Planting Depth: 1.5"
Seed Spacing: Sow Garden Birdhouse Gourds seeds roughly 6' apart.
Nutrient Care Instructions: Apply SUPERthrive once per week. Soak in solution of 1/4 tsp per gal for 15 min. or longer depending on size and type.
To dry gourds, wait until gourd is fully developed and hard enough to pick from the vines. Pick before frost. To preserve, avoid brushing and wash thoroughly. Store in a dry, well-ventilated place until thoroughly dried out and hard. Can then be waxed or painted.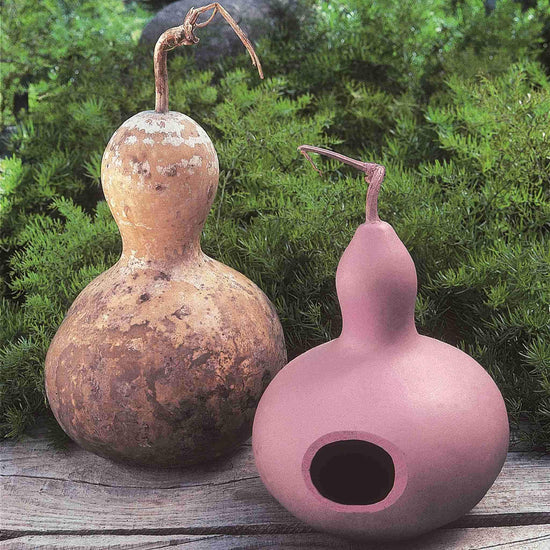 Garden growing Quiz
Find Your Best Match
Take our quiz to find the perfect plants and products for your location, skill level, and interests.
Find your best match in under 2 minutes!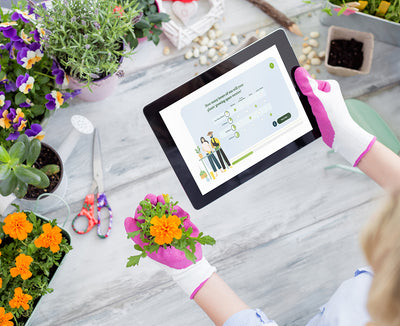 Garden growing Quiz
Find Your Best Match

Join Our Rewards Program today to start saving

Free Shipping on
Seed Only Orders!

There are a ton
of ways to earn!

Redeem points for
BIG savings!