Salad Mix Kit with Tomato Cherry, Cucumber Burpless, Romaine & Leaf Lettuce Plantlings Live Baby Plants 1-3in., 12-Pack
Regular price
Sale price
$39.99
Unit price
per
Sale
Sold out
Salad Mix Kit with Tomato Cherry, Cucumber Burpless, Romaine & Leaf Lettuce Plantlings Live Baby Plants 1-3in., 12-Pack
Regular price
Sale price
$39.99
Unit price
per
Sale
Sold out
This Salad Mix Vegetable Garden Starter Kit is the perfect way to get your garden off to a great start! This kit includes Super Sweet 100 Cherry Tomato, Burpless Supreme Cucumber, Parris Island Romaine Lettuce, and Black Seeded Simpson Leaf Lettuce Plantlings Live Baby Plants 1-3in., 12-Pack. With this kit, you can easily create a delicious salad mix right in your own backyard.
For best results, plant your vegetable garden starter kit in a sunny spot with well-drained soil. Make sure to water your plants regularly and provide them with adequate sunlight. If your garden is in an area that receives a lot of direct sunlight, you may need to provide some shade to prevent the plants from getting too hot. Also, be sure to fertilize your plants every few weeks to ensure that they get the nutrients they need to grow. With proper care, you'll be able to enjoy a delicious salad mix from your own backyard!
You will receive 12  total plantlings in this bundle which includes:
one (1) Tomato Cherry Super Sweet 100 Plantlings 3pk
one (1) Cucumber Burpless Supreme Plantlings 3pk
one (1) Romaine Lettuce Parris Island Plantlings 3pk
one (1) Leaf Lettuce Black Seeded Simpson Plantlings 3pk
Garden growing Quiz
Find Your Best Match
Take our quiz to find the perfect plants and products for your location, skill level, and interests.
Find your best match in under 2 minutes!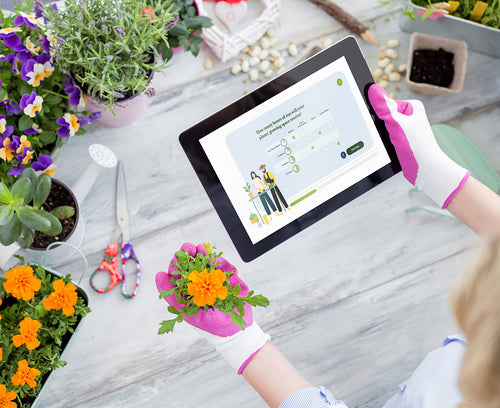 Garden growing Quiz
Find Your Best Match

Join Our Rewards Program today to start saving

Free Shipping on
Seed Only Orders!

There are a ton
of ways to earn!

Redeem points for
BIG savings!
Gardening Tips Straight From the Blog