Asparagus Seeds, Mary Washington Sow Easy
Asparagus officinalis
Regular price
$2.49
Sale price
$1.49
Unit price
per
Sale
Sold out
Asparagus Seeds, Mary Washington Sow Easy
Asparagus officinalis
Regular price
$2.49
Sale price
$1.49
Unit price
per
Sale
Sold out
Mary Washington 
Asparagus 

is a delicate and fresh flavored gourmet vegetable.

The large, tender spears are high-yielding and disease resistant. Unlike most vegetables, asparagus is a perennial. Once the plant has established, the tender spears come back year after year. Asparagus is excellent for canning and freezing.

 
---
Sow Easy seeds are pelleted with an all-natural coating made from a mix of clay, perlite, and FDA-approved food coloring. This coating adds some bulk to small seeds and stands out in the soil, making direct sowing and accurate spacing easier than ever. However, the coating does add a few days to the germination time when compared to uncoated seed.
Botanical Name: Asparagus officinalis
Flavor: Fresh and mild.
Preparation Ideas: Can be used as an appetizer, side dish, or in stir fry.
Plant Type: Vegetable
Pelleted Seed Count: 70 Pelleted Seeds
Disease Resistance: Asparagus Rust
Start Mary Washington Asparagus seeds indoors 12-14 weeks before planting outdoors. Keep seeds moist in full sunlight. Transplant when 3"-5" apart. After one year, transplant to a permanent location where the plants can grow undisturbed. Harvest the first crop after three years, then every spring.
Planting Depth: .5"
Seed Spacing: Sow Mary Washington Asparagus seeds roughly 18" apart in rows, keeping rows approximately 2' apart.
For the best flavor, harvest when the spears are pencil-thin and the buds on the tops form sharp points.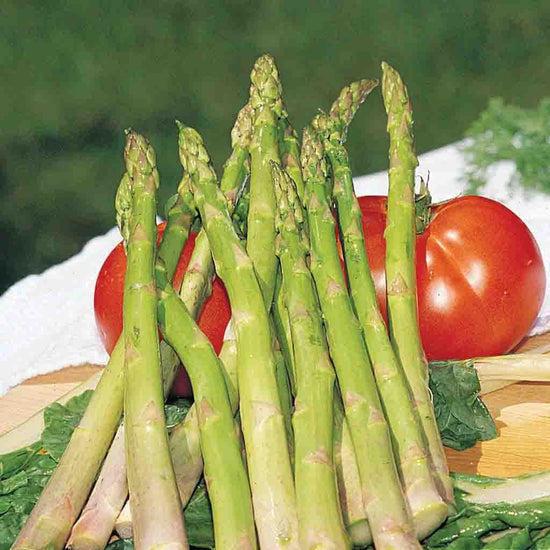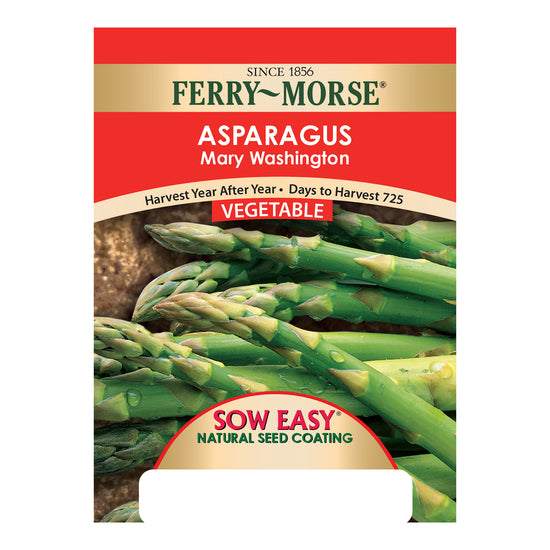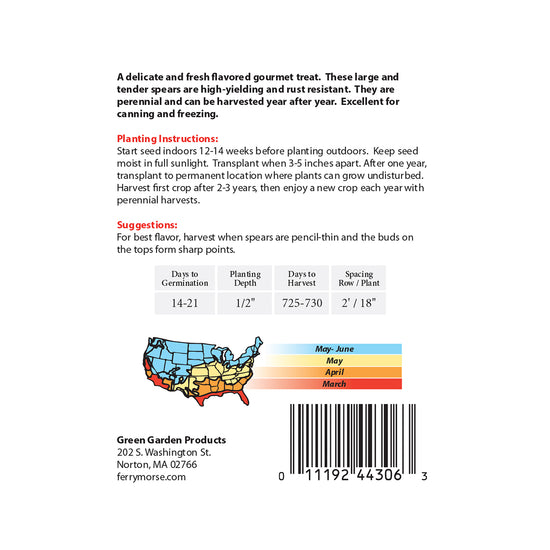 Garden growing Quiz
Find Your Best Match
Take our quiz to find the perfect plants and products for your location, skill level, and interests.
Find your best match in under 2 minutes!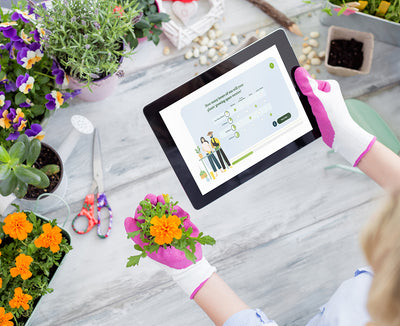 Garden growing Quiz
Find Your Best Match

Join Our Rewards Program today to start saving

Free Shipping on
Seed Only Orders!

There are a ton
of ways to earn!

Redeem points for
BIG savings!