Salsa Vegetable & Herb Kit with Tomato, Cilantro, Jalapeno & Bell Peppers Plantlings Live Baby Plants 1-3in., 12-Pack
Regular price
Sale price
$39.99
Unit price
per
Sale
Sold out
Salsa Vegetable & Herb Kit with Tomato, Cilantro, Jalapeno & Bell Peppers Plantlings Live Baby Plants 1-3in., 12-Pack
Regular price
Sale price
$39.99
Unit price
per
Sale
Sold out
This Salsa Vegetable & Herb Garden Starter Kit is the perfect way to get your garden started with the essential ingredients for making salsa. This kit includes 12 live baby plants of Amish Paste Tomato, Early Hot Jalapeno Pepper, Santo Cilantro, and California Wonder Bell Pepper, all of which are great for making delicious salsa.
Plant these plants in a sunny spot with well-draining soil and water regularly. Be sure to provide your plants with at least 6 hours of direct sunlight each day to ensure they grow to their full potential. With proper care, you will be harvesting your own delicious salsa ingredients in no time!
You will receive 12  total plantlings in this bundle which includes:
one (1) Tomato Amish Paste Plantlings 3pk
one (1) Pepper Jalapeno Early Hot Plantlings 3pk
one (1) Cilanroe Cruiser Plantlings 3pk
one (1) Pepper Bell California Wonder Plantlings 3pk
Garden growing Quiz
Find Your Best Match
Take our quiz to find the perfect plants and products for your location, skill level, and interests.
Find your best match in under 2 minutes!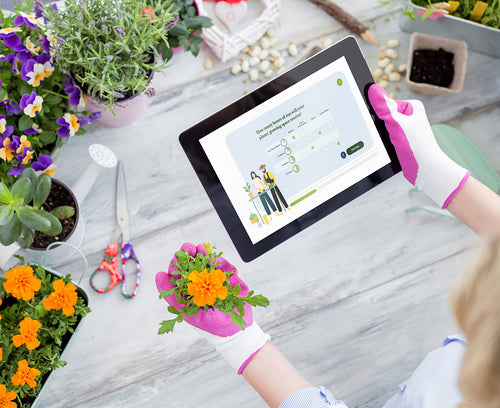 Garden growing Quiz
Find Your Best Match

Join Our Rewards Program today to start saving

Free Shipping on
Seed Only Orders!

There are a ton
of ways to earn!

Redeem points for
BIG savings!
Gardening Tips Straight From the Blog