Italian Vegetable & Herb Kit with Tomato Big Beef Plus, Tomato Cherry, Basil & Oregano Plantlings Live Baby Plants 1-3in., 12-Pack
Regular price
Sale price
$39.99
Unit price
per
Sale
Sold out
Italian Vegetable & Herb Kit with Tomato Big Beef Plus, Tomato Cherry, Basil & Oregano Plantlings Live Baby Plants 1-3in., 12-Pack
Regular price
Sale price
$39.99
Unit price
per
Sale
Sold out
This Italian Vegetable & Herb Kit is perfect for gardeners of all levels. It includes 12 live baby plants of Everleaf Genovese Basil, Big Beef Plus Tomato, Super Sweet 100 Cherry Tomato, and Italian Oregano. The aromatic abilities of herbs like basil and oregano protect tomato plants from pests and attract pollinators.
Both Big Beef Plus and Super Sweet 100 tomatoes are indeterminate and disease resistant. This kit is perfect for creating an Italian-style garden and adding flavor to your favorite dishes.
For optimal growth, plant your Italian Vegetable & Herb Kit in an area that receives full sun, at least 6-8 hours of direct sunlight per day. Ensure the soil is well-draining and amended with compost. Water your plants regularly and provide adequate fertilizer when needed. Prune your plants as needed to promote healthy growth and remove any dead or diseased leaves. With the right care, you will be able to enjoy a bountiful harvest of delicious Italian herbs and vegetables!
You will receive 12  total plantlings in this bundle which includes:
one (1) Basil Everleaf Genovese Plantlings 3pk
one (1) Tomato

Big Beef Plus

Plantlings 3pk
one (1) Tomato Cherry Super Sweet 100 Plantlings 3pk
one (1) Oregano Italian Plantlings 3pk
Garden growing Quiz
Find Your Best Match
Take our quiz to find the perfect plants and products for your location, skill level, and interests.
Find your best match in under 2 minutes!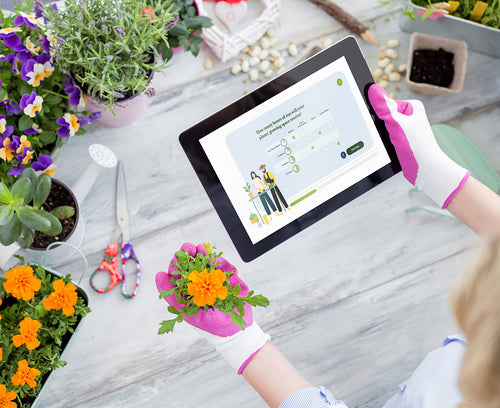 Garden growing Quiz
Find Your Best Match

Join Our Rewards Program today to start saving

Free Shipping on
Seed Only Orders!

There are a ton
of ways to earn!

Redeem points for
BIG savings!
Gardening Tips Straight From the Blog